Quick Links
---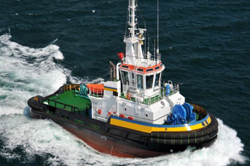 Since our first sale in 1983, Marcon has sold/chartered over 1,516 vessels and barges between companies located in the U.S. and worldwide. We specialize in the towing, marine construction and offshore petroleum industries. Although our primary focus as shipbrokers is in the sale, purchase and charter markets, we have also assisted many companies with valuations of individual vessels and fleets, as well as evaluating capital acquisitions, market rates and feasibility of trade routes.
---
Search for Vessel & Barge Listings
Search Vessel Listings
and
Search Barge Listings
links to the left allow you to use customizable or quick date searches. From the results, you can select listings to view their details. For more information on a listing, please select
E-mail Marcon About This Listing
from the upper right corner of the listing page.
If you already have Marcon's file number, you can input that into the Search box to go to the file's listing page.
---
Marcon concluded 22 sales, tows or charters in 2020, including five inland deck barges, two ocean deck barges, two ocean tank barges, eight tugs, a PSV, a crew boat, a landing craft, a passenger day vessel and a pair of Manitowoc 390 winches.
December 31, 2020 - The 300' x 100' x 20' U.S. flag ocean deck barge "Signet Atlas" was sold to U.S. West Coast buyers SeaTac Marine Services. She will be joining SeaTac Marine's Alaska and Pacific Coastwise Trade.
November 10, 2020 - Marcon International, Inc. is pleased to report the successful towage of a U.S. flag 20,000 barrel double-hull ocean tank barge(our file TB20021) from Puerto Rico to a shipyard in the Gulf of Mexico. The barge was repositioned for drydocking and renewal of her ABS loadline, after which she may be sold.
October 7, 2020 - Crowley Marine sold its 7,200HP Invader series tug "Hunter" to private Washingtonian interests. The tug is often referred to as the "fastest tug in the Puget Sound" due to its frequent wins in annual Seattle Maritime Festival tug races.
September 2, 2020 - The 3,000BHP tug "Noelani" was sold on private and confidential terms recently. The tug was originally built in 1965 for the U.S. Navy as the "Winnemucca". She served our country well for over30 years, receiving many citations and awards for meritorious service prior to her conversion to civilian use in 2004.
---
Marcon Publishes...
Every year, Marcon publishes semiannual
Market Reports
on the offshore, inland river pushboat, tank barge and tug markets; and two
Newsletters
, each containing an article and a selection of featured listings.
---