Quick Links
---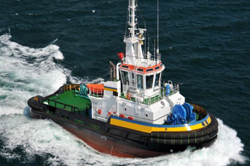 Since our first sale in 1983, Marcon has sold/chartered over 1,522 vessels and barges between companies located in the U.S. and worldwide. We specialize in the towing, marine construction and offshore petroleum industries. Although our primary focus as shipbrokers is in the sale, purchase and charter markets, we have also assisted many companies with valuations of individual vessels and fleets, as well as evaluating capital acquisitions, market rates and feasibility of trade routes.

---
For Sale By Bid tender on or before June 29th, 2021
**Exclusively Offered For Sale By Marcon**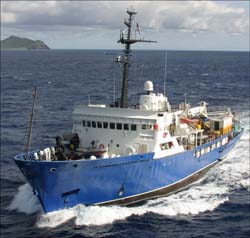 Oceanographic Research Vessel "Mt Mitchell" (RV23142)
231' x 42' x 20'. Built 1967. Rebuilt: 2002. U.S. flag. ABS + A1 AMS, ACC, USCG Sub "U", "I" -in layup status; COI, SOLAS. Dwt: 1,800T. FO: 105,000g. FW: 16,000g. 15T & 5T cranes. 10T A-frame. M/Es: 2 x EMD total 2,400HP o'hauled 2002. Speed 12.5-14kn. Range 10,925nmi / 45 days. Bow thruster. Gensets: 2- 300kW; 1-75kW. Quarters for 48 in 7 single & 20 double cabins + berths for up to 11 crew. AirCon. Hospital, lounges, wet lab, conference & data process rooms. Mess seats 34. Full Com / Navaids. Complete refit to new standards '03. The sellers are inviting best offers with no minimums however the sellers reserve the right to decline any written or verbal offers. Inspection / Delivery: Seattle. Contact Martin Coombe at this office.
---
Search for Vessel & Barge Listings
Search Vessel Listings
and
Search Barge Listings
links to the left allow you to use customizable or quick date searches. From the results, you can select listings to view their details. For more information on a listing, please select
E-mail Marcon About This Listing
from the upper right corner of the listing page.
If you already have Marcon's file number, you can input that into the Search box to go to the file's listing page.
---
Marcon has completed five sales and one charter so far in 2021, after concluding 22 sales, tows or charters in 2020.
March 18, 2021 - Marcon acted as the exclusive broker in the sale of two 1,800BHP sister tugs, "Millie Cruz" and "Dana Cruz" to private buyers. The tugs were built as special purpose shallow draft tugs with ABS loadlines for coastal and river work.

March 8, 2021 - Marcon is pleased to announce as its first sale of 2021, the sale of the 11,400BHP ocean salvage and rescue tug "Hulk" from Star Matrix Hong Kong, Ltd to Japanese Buyers. The tug worked extensively in the U.K. and France prior to being acquired by Star Matrix in 2019 and worked worldwide until her delivery to new Owners in Japan.
December 31, 2020 - The 300' x 100' x 20' U.S. flag ocean deck barge "Signet Atlas" was sold to U.S. West Coast buyers SeaTac Marine Services. She will be joining SeaTac Marine's Alaska and Pacific Coastwise Trade.
November 10, 2020 - Marcon International, Inc. is pleased to report the successful towage of a U.S. flag 20,000 barrel double-hull ocean tank barge(our file TB20021) from Puerto Rico to a shipyard in the Gulf of Mexico. The barge was repositioned for drydocking and renewal of her ABS loadline, after which she may be sold.
---
Marcon Publishes...
Every year, Marcon publishes semiannual
Market Reports
on the offshore, inland river pushboat, tank barge and tug markets; and two
Newsletters
, each containing an article and a selection of featured listings.
---