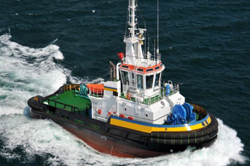 Since our first sale in 1983, Marcon has sold or chartered 1,499 vessels and barges between companies located in the U.S. and worldwide. While we specialize in the towing, marine construction and offshore petroleum industries, we handle a variety of vessels and barges. Besides our primary focus in the sale, purchase and charter markets, we have assisted many companies in evaluating capital acquisitions and market rates. Give us a call. Our brokers and staff will be happy to help you.
---
Search for Vessel & Barge Listings
Search Vessel Listings
and
Search Barge Listings
links to the left allow you to use customizable or quick date searches. From the results, you can select listings to view their details. For more information on a listing, please select
E-mail Marcon About This Listing
from the upper right corner of the listing page.
If you already have Marcon's file number, you can input that into the Search box to go to the file's listing page.
---
Recent Flyers contains all flyers Marcon has sent out by email and mail over the past 60 days. The flyers are based upon equipment types, such as supply or tug, or equipment related to specific company types, such as construction or oil. If you wish to be added to our mailing lists, please email or call us.
---
Marcon is pleased to be starting off both the New Year and the new decade by concluding five sales so far the first quarter - three vessels and two barges. Sales of several additional vessels and barges are pending. In 2019, we completed 22 sales and five charters, after wrapping up 2018 with 39 sales and two long-distance tows completed.
As the 1,499th sale or charter concluded over the last 39 years, Marcon brokered the sale of the U.S. flag, twin screw tug "Nancy M" from Manson Construction Co. of Seattle, Washington. Marcon has sold or chartered 363 tugs totaling 1,165,787HP.
February 3, 2020 - The 9,876dwt tank barge "Barge 360" was sold between U.S. West Coast buyers & sellers on a private and confidential basis.

February 3, 2020 - A 7,185mtdw container ship was sold on a private & confidential basis. Marcon acted as sole broker in the transaction between buyer and seller, both of whom Marcon has successfully represented in the past.

January 30, 2020 - A U.S. flag 4,800HP twin screw tug was sold on a private & confidential basis. Marcon acted as sole broker in the transaction.

---
Marcon Publishes...
Every year, Marcon publishes periodic
Market Reports
on the crew boat, inland river pushboat, supply, tank barge and tug markets; a monthly
Bunker Price History
summary; and three
Newsletters
, each containing an article and about 750 listings.
---