Quick Links
---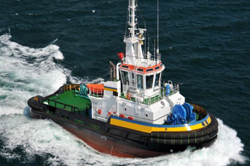 Since our first sale in 1983, Marcon has sold/chartered over 1,527 vessels and barges between companies located in the U.S. and worldwide. We specialize in the towing, marine construction and offshore petroleum industries. Although our primary focus as shipbrokers is in the sale, purchase and charter markets, we have also assisted many companies with valuations of individual vessels and fleets, as well as evaluating capital acquisitions, market rates and feasibility of trade routes.

---
Search for Vessel & Barge Listings
Search Vessel Listings
and
Search Barge Listings
links to the left allow you to use customizable or quick date searches. From the results, you can select listings to view their details. For more information on a listing, please select
E-mail Marcon About This Listing
from the upper right corner of the listing page.
If you already have Marcon's file number, you can input that into the Search box to go to the file's listing page.
---
Marcon has completed ten sales and one charter in 2021, after concluding 22 sales, tows or charters in 2020.
29 December 2021 - Marcon is pleased to announce the sale of a Caribbean-based 3,000BHP twin screw tug between private interests.

30 September 2021 - Marcon, in two separate private & confidential transactions, sold a late 1990s built U.S. flag ATB unit outside the U.S. and sold a late 1990s built tug within the U.S.
2 July 2021 - Marcon is pleased to announce that Intertug has sold its 1,800HP twin screw tug "Carex" (pictured) to U.S. Virgin Island based buyers.
15 June 2021 - Marcon International, Inc. is pleased to announce a private transaction involving a U.S. Flag Ocean Deck Barge. The barge is ABS classed, measuring 400' x 100' x 24' with DWT of 17,586 short tons at max draft.

15 June 2021 - Crowley Marine Services Inc. has sold two of their 7,200BHP Invader series tugs, "Stalwart" and "Bulwark", to private Washingtonian interests.
---
Marcon Publishes...
Every year, Marcon publishes semiannual
Market Reports
on the offshore, inland river pushboat, tank barge and tug markets; and two
Newsletters
, each containing an article and a selection of featured listings.
---