Quick Links
---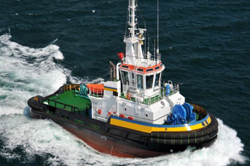 Since our first sale in 1983, Marcon has sold/chartered over 1,511 vessels and barges between companies located in the U.S. and worldwide. We specialize in the towing, marine construction and offshore petroleum industries. Although our primary focus as shipbrokers is in the sale, purchase and charter markets, we have also assisted many companies with valuations of individual vessels and fleets, as well as evaluating capital acquisitions, market rates and feasibility of trade routes.
---
Search for Vessel & Barge Listings
Search Vessel Listings
and
Search Barge Listings
links to the left allow you to use customizable or quick date searches. From the results, you can select listings to view their details. For more information on a listing, please select
E-mail Marcon About This Listing
from the upper right corner of the listing page.
If you already have Marcon's file number, you can input that into the Search box to go to the file's listing page.
---
So far in 2020, we have completed 17 sales and one charter with several pending closure. In 2019, we completed 22 sales and five charters, after wrapping up 2018 with 39 sales and two long-distance tows completed.
13 July 2020 - McAllister Towing and Transportation Company of New York have sold their twin screw tug "Barbara McAllister" to Mar-K Towing in Florida.
1 July 2020 - The three deck 1992 Westport built, twin screw passenger tour boat "Chinook" was sold by Pacific Cruises Northwest to Puget Sound buyers.
18 May 2020 - The U.S. flag 3,000BHP "Pacific Warrior" was sold to Paradigm Marine, who will reposition the tug to Kodiak, Alaska. The tug was built in 1975 and repowered in 2004 along with the installation of quad rudders, kort nozzles, new reduction gear foundations, shafts and propellers.
18 May 2020 - Marcon acted as the sole broker in the private and confidential sale of two newly rebuilt Manitowoc 390 triple drum winches.
30 April 2020 - The sale of the 254' x 44' x 16' U.S. flag platform supply vessel, "Elsa Leigh", in March to Caribbean buyers marked Marcon's 1,500th sale and the second time we have sold this vessel.
27 April 2020 - Atlas Ocean Towing, LLC of California has concluded the sale of its tug "Pacific Freedom" to US West Coast Buyers. This is the second time Marcon has been involved with the sale of this tug.
---
Marcon Publishes...
Every year, Marcon publishes periodic
Market Reports
on the crew boat, inland river pushboat, supply, tank barge and tug markets; and three
Newsletters
, each containing an article and a selection of featured listings.
---