Quick Links
---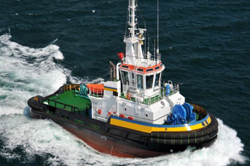 Since our first sale in 1983, Marcon has sold/chartered over 1,540 vessels and barges between companies located in the U.S. and worldwide. We specialize in the towing, marine construction and offshore petroleum industries. Although our primary focus as shipbrokers is in the sale, purchase and charter markets, we have also assisted many companies with valuations of individual vessels and fleets, as well as evaluating capital acquisitions, market rates and feasibility of trade routes.

---
Search for Vessel & Barge Listings
Search Vessel Listings
and
Search Barge Listings
links to the left allow you to use customizable or quick date searches. From the results, you can select listings to view their details. For more information on a listing, please select
E-mail Marcon About This Listing
from the upper right corner of the listing page.
If you already have Marcon's file number, you can input that into the Search box to go to the file's listing page.
---
All Available Boats - In Rememberance of 9/11
All Available Boats
On Sept. 11, 2001, the largest sea evacuation in history took place in Lower Manhattan. Civilians streaming off of the island in the aftermath of the World Trade Center attacks were ferried to safety by all manner of working boats. In the end, nearly 500,000 people were rescued from Manhattan by boat. (Courtesy of Workboat magazine.)
---
Marcon has closed 13 sales so far in 2022 with more pending closure soon, after concluding ten sales and one charter in 2021.
23 August 2022 - Marcon sold the 99m, 2007-built 387 TEU (36 reefer plugs) landing craft "GF Paysandu" from close owners to whom we sold the vessel.
June 2022 - Marcon closed on two private & confidential sales involving one ocean deck barge and one offshore support vessel.

26 May 2022 - Marcon is pleased to announce the sale of the AHTS "Nunui". The 185' x 40', 3,900BHP vessel was built in 1978 at Halter Marine. "Nunui" has been repositioned to Alaska to work in her new owner's fleet. Marcon acted as sole broker in this transaction.
13 May 2022 - A U.S.-flagged 170' x 30' inland spud barge was sold on a private & confidential basis. The 270ST deadweight barge was rebuilt in 2017 with the new owners receiving a barge in like-new conditions. She is now working for her new Owners.

1 May 2022 - Marcon sold on a private & confidential basis a 65,000BBL U.S. flag ocean tank barge. The barge was subsequently converted to an ABS +A1 ocean deck barge.

1 May 2022 - Marcon sold a 3,900HP twin screw tug between private U.S. parties. The vessel has been refitted and is already at work for her new owners.

---
Marcon Publishes...
Every year, Marcon publishes semiannual
Market Reports
on the offshore, inland river pushboat, tank barge and tug markets; and two
Newsletters
, each containing an article and a selection of featured listings.
---